NHS payout after ex-soldier took his own life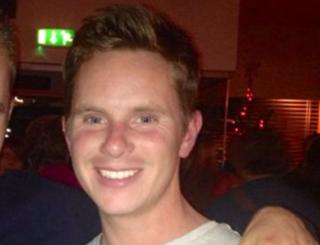 The family of a former soldier who took his own life has won a six-figure payout from NHS bosses who admitted a catalogue of failings in his care.
Father-of-three Aidan Knight, who served in Iraq with the elite 2 Para, had been trying to get help from mental health professionals when he died, lawyers for his family said.
The 29-year-old's body was found in a park in Crawley, West Sussex, in 2015.
The Sussex Partnership NHS Foundation Trust has been contacted for a comment.
'Tortured soul'
Mr Knight joined the Army aged 17 but left after five years, telling his mother Angie Aleksejuk he had seen "too much death", and also struggled to cope with the death his brother in 2012.
Mrs Aleksejuk, 55, from Stafford, said: "I think Aidan was a tortured soul after he came back but he bottled it all in.
"He'd just say he had seen terrible things. He would have nightmares and cry out in his sleep."
A coroner concluded his death was suicide and a serious incident mental health review found the trust should have done more for Mr Knight.
The trust has apologised to Mr Knight's family for the "failings in the care he received".
Between 2014 and 2015, Mr Knight tried to take his own life four times and assessments by NHS psychiatrists found he had post-traumatic stress disorder (PTSD), but was not considered high risk enough to be admitted to hospital.
Mrs Aleksejuk added: "I wish that just one person had thought differently... if they had he may still be here.
"He ticked all the boxes of being at risk - a former serviceman, under 30, he had lost his brother, lived alone and he even presented himself to A&E - but he slipped through the net.
"What happened has devastated our family."
Information and advice
If you or someone you know is struggling with issues raised by this story, find support through BBC Action Line .