Wanted Brighton burglar who taunted police is caught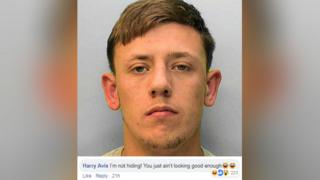 A wanted man who taunted police saying officers "just ain't looking good enough" has been caught.
Harry Avis was responding to a post by Sussex Police, who offered a £1,000 reward for information from the public that might lead to his arrest.
The 20-year-old, from Brighton, was wanted for breaching the terms of his release from prison.
Sussex Police replied to Avis online: "We're good at hide and seek. We've played this game before."
The force, which has 100,000 Facebook followers, wrote that it would "love to hear from" anyone who had seen Avis "out and about".
Avis, who was jailed in April 2017 for burglary, was arrested in Findon Road, Brighton, on Thursday.
A 19-year-old woman, also from Brighton, was arrested on suspicion of obstructing or resisting a constable in the execution of their duty.
She remains in custody, a police spokesman said.