Katie Price avoids bankruptcy in High Court hearing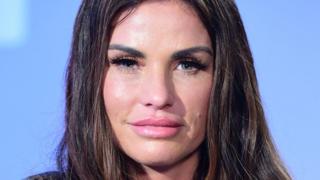 Katie Price has avoided bankruptcy after reaching an agreement with her creditors.
The TV personality's case was heard at the High Court after she reportedly blew her fortune, previously estimated to be worth millions of pounds.
Formerly known as glamour model Jordan, it is understood many creditors arose from the upkeep of her West Sussex home, which is in a state of disrepair.
The court was told she has agreed a plan to pay back what she owes.
The petition to make her bankrupt was dismissed by the court.
Price, 40, who was once said to be worth more than £40m, was given time to negotiate a deal with tax officials in October.
At the time, lawyers for HMRC told Judge Jonathan Middleton they had been informed of a proposal by Price for an Individual Voluntary Agreement (IVA).
The IVA lets people with debt repay their creditors at an affordable rate, to avoid bankruptcy.