TB outbreak declared at Brighton and Sussex hospitals trust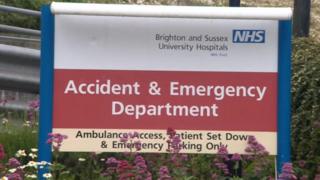 A hospital trust has declared a "serious incident" after an outbreak of tuberculosis (TB).
Brighton and Sussex University Hospitals NHS Trust said a member of staff contracted TB from a patient and passed it on to another patient.
The trust said it had contacted more than 1,000 patients and staff who may have been in contact with the disease.
Nearly 400 people had been screened with "no active cases identified", it confirmed in a statement.
The disease is usually only caught by prolonged close contact with someone who has the infection in their lungs.
'Robust plans'
The trust, which runs hospitals in Brighton and Haywards Heath, described the outbreak as "a unique, unexpected transmission" of TB.
It would not confirm which hospital the infection occurred at.
The trust said it was "a strain of TB not routinely seen in hospitals" and that it was working closely with Public Health England.
In a statement a spokesman confirmed the trust had contacted 321 patients and 745 staff to make them aware of the signs and symptoms of the infection.
It added: "Transmission of the infection was not linked to any deficiencies in care and our management of this incident has received the support of both Public Health England and the TB centre at the London school of Hygiene and tropical medicine.
"We have robust plans in place to deal with these issues and help prevent further cases."