Giant crack at Beachy Head sparks alert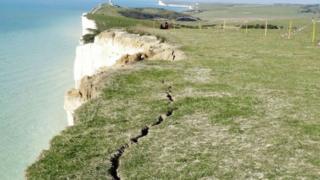 Another section of the cliffs at Beachy Head has been sealed off after a giant crack appeared close to the edge.
The crevice, which is more than 20m (66ft) long and 30cm wide in places, is at Shooters Bottom, an area popular with birdwatchers.
It follows a "significant fall" at Seaford Head on Monday, a few miles west of the new opening.
Eastbourne Borough Council says contractors have put up temporary fencing to keep people away.
However, previous rock falls have failed to deter sightseers, who have been photographed on the very edge, prompting coastguards and council officials to issue warnings.
On Monday, the coastguard warned that after the "significant" fall at Seaford Head, there was the possibility of further falls following recent heavy rain.
A spokesman for the council said the crack at Shooters Bottom ran parallel with the cliff edge and was only about 60cm from it.
He said: "This kind of coastal erosion is expected periodically. The cliff recedes on average between 50cm and 1m a year."