East Sussex council leader plays down service cuts report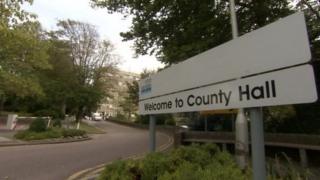 A report laying out how county council services in East Sussex could be severely reduced was not intended as a "budget-setting paper", the authority's leader has said.
Councillor Keith Glazier made the comments at a meeting on Tuesday, the Local Democracy Reporting Service said.
The East Sussex County Council leader told councillors the aim of the report had been to "prompt discussion".
Opposition councillors called for "greater transparency" in the process.
Legal minimum
The report, which was first discussed at a meeting of the Conservative-controlled cabinet in July, described this potential level of service as the council's "core offer".
If put into force it would see services stripped back close to the legal minimum.
The same report warned that East Sussex County Council could "reach this level of service by 2020/21", but said this was based on a number of currently unknown variables.
Mr Glazier told the meeting the report was intended to start discussion about what the council "should and could offer in a worst-case scenario".
Liberal Democrat councillor Philip Daniel called for greater transparency throughout the budget process and raised concerns about some figures in the report.
He urged the cabinet to look for new ways of saving money without cutting frontline services.