Two men rescued as glider crashes at Beachy Head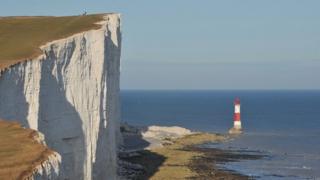 Two men were rescued after their glider crashed into the sea near Beachy Head.
A passing light aircraft pilot spotted the other craft flying low shortly before it crash-landed near the East Sussex landmark, the coastguard said.
The men were winched from the water by a coastguard helicopter but did not require any medical attention.
Ashley Rawson, from the coastguard said the other pilot's "quick thinking" had helped to locate the stricken pair more quickly.
"Luckily both glider occupants were unscathed and did not spend long in the sea," he added.
Lifeboats and coastguard rescue teams were also sent to the scene.