Eastbourne and Lewes councils hold independence talks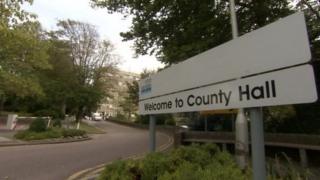 Two local authorities have held talks to break away from county council control amid a funding crisis.
Lewes District Council and Eastbourne Borough Council have discussed leaving East Sussex County Council control to form an independent unitary authority.
The conversations were described as "informal" and the process would take several years if it was approved by government.
East Sussex County Council said it would continue to lobby for resources.
Andy Smith, leader of Lewes District Council, and his Eastbourne Borough Council counterpart, David Tutt, said both authorities had put aside their "political differences" to focus on delivering "essential services" to residents.
'Exploring'
They said the authorities had worked together to make "significant financial savings" and avoid the need to cut frontline services.
"Naturally, one of the potential ways forward is exploring the feasibility of unitary status authorities in East Sussex."
With demand increasing, in the summer East Sussex County Council set out plans to strip back services to the "legal minimum" and said it could be facing a budget deficit of £46.4m by 2021/22.
East Sussex County Council leader, Keith Glazier, said the authority would continue to lobby government for the resources it needs.
"We will look at the best way possible to deliver services," he said.
Jonathan-Carr West, from the Local Government Information Unit, said in a unitary authority "you don't have multiple HR departments, payroll systems, legal departments - so you can achieve a greater degree of efficiency."
But he said many side with a district council as it offers "more local control, you get decisions taken closer to the people."
Analysis
By Ben Weisz, BBC News
"Unitary" might just be the trendiest word in local politics right now.
The idea is simple. Rather than district, borough and county councils all doing different jobs, strip out layers of government and have a single council as a one-stop shop like Brighton. Maybe even save a bit of money in the process.
But where would you draw the lines? Some, like Maria Caulfield MP and Eastbourne's Tories, would abolish districts and have a single unitary council for East Sussex.
Others feel smaller bodies would be more responsive to residents' needs. But Eastbourne and Lewes are not big enough to go it alone, they'd need to involve other councils too.
And even if the government gave the green light, the process would take several years to complete - it wouldn't be a quick fix to this year's funding pressures.
But the fact so many across the political spectrum are discussing unitary authorities shows the challenges our councils are facing.