Lancing green light for new Ikea store and 600 homes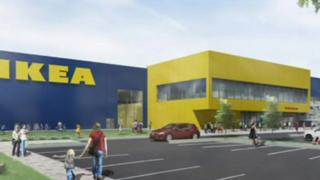 Plans for 600 new homes and a new Ikea store in West Sussex have been approved by councillors despite objections.
The New Monks Farm development will be in Lancing, on land between the Brighton and Hove Albion FC training ground and Shoreham Airport.
Developers have said it will boost the economy, but campaigners have expressed concerns about the impact on wildlife and congestion on the A27.
Adur District Council deferred a decision on the store in July.
Ahead of the meeting on Wednesday evening, Lancing College withdrew its objections to the plans, saying it had reached an agreement with the developers to secure an access to the college once the construction is completed.
Live: More news from across the South East
Martin Perry, from Brighton and Hove Albion - which is behind the development - said thousands of people would benefit from the scheme with the creation of "good quality" jobs, and new homes.
He added the future of Shoreham Airport would also be secured.
"The feeling is huge relief. It's currently in administration, and New Monks Farm will provide a new access into the airport and provide the drainage solution needed for the airport," Mr Perry said.
But campaigners said it would blight the local area for generations to come.
Gloria Eveleigh, chair of Lancing parish council, said the mood among opponents after the vote was "intense disappointment".
"No Lancing person will be able to afford the homes, there'll be people coming in from other places like Brighton and London taking those places, so our kids won't have a place," she said.
"There's only low-skilled jobs available in Ikea, so there's nothing here for them."
Ms Eveleigh added: "It puts us on the map only because of the congestion it's going to cause, in a road that's already over congested, [and] is above the legal pollution limits."
Work on the development is expected to start in the new year.