Sex worker stall at Brighton university freshers' fair sparks row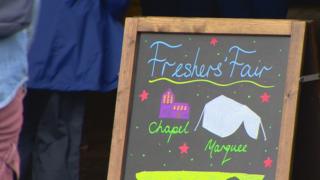 A university has insisted it is not promoting prostitution after a sex workers' support group was given a stall at its freshers' fair.
The Sex Workers' Outreach Project (Swop) was included in the event for new students at the University of Brighton last week.
Feminist campaigner Julie Bindel called the decision "beyond disgraceful".
But student union president Tomi Ibukun said it was there to provide support rather than to advocate sex work.
A university spokesman said it would be "exploring the matter further" with the union to fully understand the aims of inviting Swop to attend.
He added: "We would like to make it clear that the university does not promote sex work as an option to students."
Swop is part of the Brighton Oasis Project charity and has described itself as a "discreet and confidential" service for women in the sex industry.
It promoted its attendance in a series of tweets, in which it said: "1 in 6 students does sex work or thinks about turning to sex work. We can help."
Alison Phipps, professor of gender studies at the University of Sussex, thanked Swop for its "great work".
But critics of the idea have included feminist campaigner and writer Julie Bindel, co-founder of law reform group Justice for Women.
She said: "This is beyond disgraceful. It makes me so angry that the sex trade's become normalised and pimped to women as though it is a harmless and respectable way to earn a living."
You may also be interested in:
Speaking to The Sunday Times, Mr Ibukun said: "Swop was at our freshers' fair event to raise awareness of the specialist support they provide should it ever be needed.
"It is unfortunate that some people have misinterpreted the attendance."
Swop said it "never idealised sex work", but added it understood "why students may turn to sex work".
"Navigating the legal precariousness as well as the potential danger mean that students are extra vulnerable and we will help."