Wild birds die in glue traps at Horsham nature reserve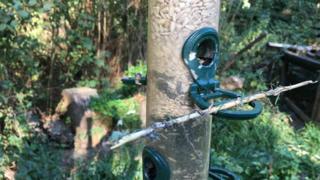 Six wild birds have died after glue traps were placed on bird feeders and vegetation at a nature reserve, the RSPCA has said.
The animal welfare charity was alerted after rangers found the birds at the Warnham Local Nature Reserve in West Sussex on Thursday.
Five blue tits and one great tit were found dead while other birds had to be taken away to be cleaned.
Three men were seen acting suspiciously in the area, the RSPCA added.
A sticky substance, identified as bird lime, had been placed on feeders and surrounding vegetation to "cruelly trap" birds that came in to contact with it, the charity said.
A spokesperson added: "Using this method of trapping causes huge amounts of distress and suffering for the birds and will indiscriminately ensnare anything that comes into contact with it."
Two of the suspects were described as about 30-years-old, six feet tall, with hair that was long on top and shaved at the sides.
A third man was described as older, but not as tall and was wearing a cap.
The charity spokesperson added: "If anyone sees the three men described as acting suspiciously in the area again we would urge them to call the police first and contact the RSPCA."
It said anyone caught could be sentenced to up to six months in prison and given an unlimited fine if found guilty.