Second patient may have drunk toilet cleaner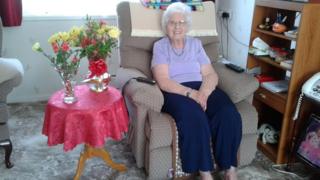 An inquest into the death of a woman who died after drinking cleaning fluid has heard another patient at the same hospital may have drunk toilet cleaner.
Joan Blaber, 85, from Lewes, died while being treated at the Royal Sussex County Hospital in Brighton.
She died on 23 September 2017, six days after drinking Flash cleaner from a water jug on her bedside table.
Hove Coroner's Court heard it was "highly unlikely" what happened was the result of a mistake.
Before Mrs Blaber's death staff had been told another patient had drunk toilet cleaner, the jury heard.
Housekeeper Daniel Gonzales said: "Apparently the patient, who had dementia or something like that, took it and drank it.
"It's just a story, I'm not sure if it was true."
Mr Gonzales was asked how he thought Flash was found in a patient's water jug.
He replied: "It doesn't make any sense to me. No-one would pour the product into a jug you normally use for patients."
'No official training'
Ashley Le May, who was part of a team whose job it was to clean communal areas, said he had to carry a container of Flash through the wards on 17 September 2017 to get to other parts of the building as it was too big to fit on a trolley.
He said: "At no point did we stop and at no point did the bottle of Flash leave its cardboard box."
His colleague Kayleigh Regan said in a statement read to the court, there was "no real structure" to cleaning and claimed she had received "no official training" from the hospital.
Senior coroner Veronica Hamilton-Deeley suggested it was "highly unlikely" what happened was the result of an error.
At a pre-inquest review in June, she said a "deliberate act" could not be ruled out.
The inquest continues.