Green MP Caroline Lucas: Private litter firm 'lining pockets'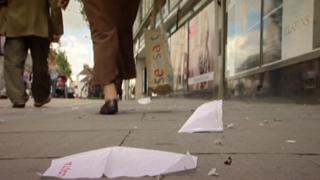 Brighton's Green MP has accused the private firm that runs the city's litter patrols of lining its pockets and using a "draconian" approach.
Caroline Lucas wants the service to return to council control after a BBC investigation revealed litter fines had soared since 3GS took on the contract.
The number of fixed-penalty notices issued since the firm took over has risen from 91 to 3,064 in two years.
3GS said its service "had a material impact on improving the environment".
Brighton City Council says the rise is because more staff have been deployed.
Figures released under a Freedom of Information request by BBC South East Today show the number of litter notices - incurring fines of between £75 and £300 - rose from 91 in 2015/16 to 1,640 during 3GS's first full year in operation, and to 3,064 in 2017/18.
Surplus reinvested
Notices for fly-tipping rose during the same period from zero to 201.
Income from the combined fines rose from £5,400 in 2015/16 to almost £220,000 in 2017/18.
Under the contract, 3GS Environment Solutions takes 60% of the litter-fine income and 70% of that for fly-tipping.
The balance goes to the city council, which says any surplus generated by the scheme is reinvested in improvements to its refuse and recycling service.
The council also says 3GS officers are not paid incentives or commission for issuing fines, and that the company - which began its three-year contract in February 2016 - is not allowed to provide performance pay or bonuses linked to the number of tickets issued.
But Ms Lucas said staff were targeting people for things as minor as putting recycling in the wrong bin.
She said: "I want people to put things in the right recycling bins but we should be giving more warnings. We should be explaining more rather than having such a draconian attitude.
"I'm not sure that giving 3GS the contract is actually cleaning the city up… I think what it's doing is lining their pockets."
The company said in a statement: "We are proud to be delivering a successful service which has had a material impact on improving the environment.
"Prior to 3GS providing the service the authority was able to provide only limited in-house resources to combat environmental crime."