Fergie the tortoise 'stolen from farm in hoodie' handed back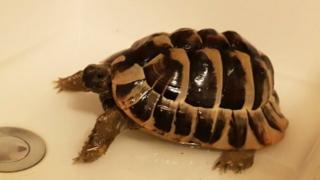 Fergie the tortoise, who was taken from a petting farm after allegedly being smuggled out in a visitor's hoodie, has been returned.
Sussex Police said he was brought back to Blackberry Farm, East Sussex, on Tuesday.
The force had previously issued CCTV footage apparently showing Fergie being picked up by a couple on Saturday.
He has been reunited with Dexter, his companion, with whom farm owner Paul Harris said he had been inseparable.
You may also like:
Police said they were talking to the suspects and inquiries were continuing.
The man and woman who were seen on CCTV left the farm, in Whitesmith, near Uckfield, with four or five children at about 17:00 BST on Saturday before boarding a bus.
Mr Harris had described the theft as "shocking".
"We're a visitor attraction and we just can't believe it," he said.