Brighton police cars damaged by man throwing tiles from roof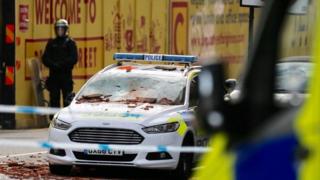 Part of the A23 in central Brighton had to be closed for several hours after a man started throwing tiles from a roof.
Officers arrived at the scene in Grand Parade near the junction with Kingswood Street just before midnight.
The road was cordoned off to "protect the public" and residents were told to stay inside and keep away from windows.
Two police cars were damaged by tiles and other objects but no-one was injured. The man came down of his own accord at 09:15 BST and was arrested.
Sussex Police said he is being questioned on suspicion of criminal damage.
Negotiators worked through the night to try to get the man to come down.