Graffiti daubed on vans parked for months on Brighton roads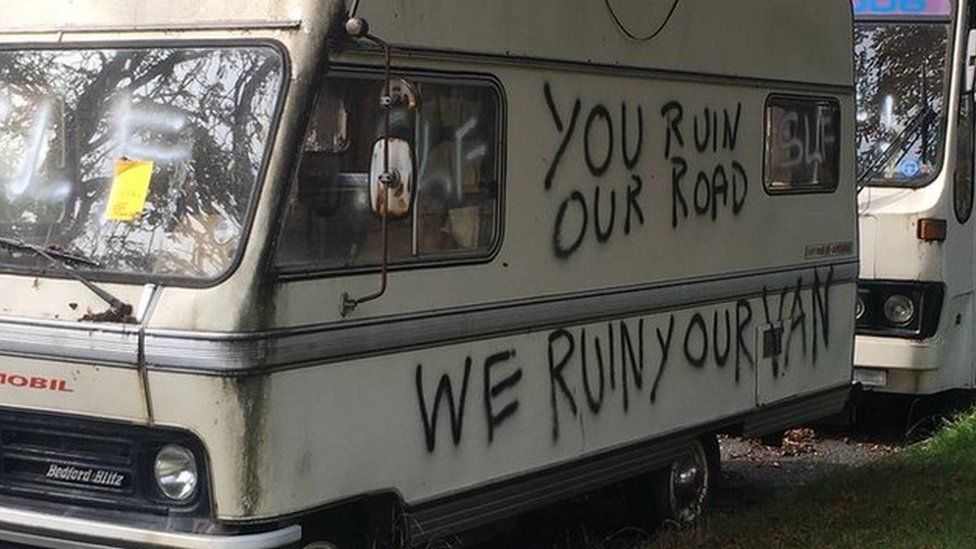 Vans and motor homes that have been left parked on residential roads for months have been daubed with graffiti.
Most of the vehicles in the Surrenden Road area of Brighton, which is just outside the city's controlled parking zone, are legally parked and taxed.
Campaigners say they are an eyesore, and have called on the council to impose strict parking restrictions.
Brighton and Hove City Council said proposals would be considered as part of a future consultation.
A spokesperson said it was "very aware of the concerns around parking issues".
Earlier this year, nearly 600 people signed a petition to the council calling for a controlled parking scheme to be extended to the Surrenden area.
They said residents wanted to park close to their homes, and visibility for drivers and children crossing the roads was unsafe due to poorly parked high-sided vehicles.
Michael Edwards, of the Surrenden Area Parking Campaign, said: "The way that people feel about parking right now is very unhappy.
"These vans are not making the situation any better and seeing these vans with graffiti on makes people incredibly upset.
"They want to see the perpetrators desist as well as seeing the vans go."
Sussex Police said they had not received any reports of vandalism.
Related Internet Links
The BBC is not responsible for the content of external sites.