Sussex Police admit station closure amid Britney Spears crowd chaos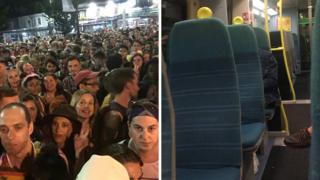 A police force has admitted it did shut a train station amid chaotic scenes following Brighton Pride's Britney Spears concert.
Sussex Police had previously said it did not request the closure of Brighton station after huge crowds built up.
Many people spent the night on the beach on Saturday after reports of crushing and people passing out.
But in a statement on Wednesday the force said an officer made the call on safety grounds.
The joint statement with British Transport Police said: "Just after 11pm, a British Transport Police officer asked a Sussex Police officer to go to the front of the station to make an assessment on the number of people arriving.
"A decision was quickly made by the Sussex Police officer to close the gates."
It added: "We understand this decision resulted in people being delayed in getting home, but it was essential to prevent a dangerous situation from escalating.
"We will continue to scrutinise our decisions that night and will work with the train operating company and station management team to ensure that the crowd management plans at the station, in particular the queuing arrangements, is reviewed and lessons learnt."
Britney played to a crowd of 57,000 on Saturday night, while police said the city welcomed more than 450,000 people over the whole Pride weekend.
Govia Thameslink (GTR) said police needed to marshal crowds.
GTR spokeswoman Angie Doll said: "We had standby trains. We had an additional 15 trains available."
She added: "The issue here is the control of the passengers back to the station, so when crowds started to return into the station, the local police force needed to marshal those and this is one of the points that we'll be taking up with the organisers".