Birling Gap beach closed after 'significant' cliff fall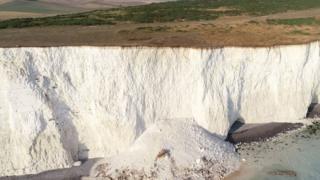 A "significant" cliff fall has forced the closure of a popular beach on the south coast of England.
The collapse at Birling Gap, East Sussex, on Saturday prompted a search by the coastguard who said no-one was hurt and no-one reported missing.
However, rescue officers spoke of concern for public safety and the possibility of more falls.
The coastguard said changing weather conditions had increased the risk of cliff instability.
"As seen in other parts of the country this weekend, the period of dry weather, followed by rain and then a return to warm dry conditions again is increasing the risk of cliff instability and it makes cliff falls more likely," it said in a statement.
"[Don't] get too close to the top of cliff edges or approach the base of cliffs."
A woman was hurt in Norfolk on Friday when parts of a cliff fell on her while she was on Happisburgh beach.
On Saturday night, Wealden District Council tweeted that the beach would be closed on Sunday.
HM Coastguard's "extensive search of the area" on Saturday involved Coastguard rescue teams, a Coastguard rescue helicopter and Newhaven RNLI lifeboat, as well as involvement from Sussex Police and East Sussex Fire and Rescue.
Each year more than 350,000 people visit Birling Gap, which has suffered falls before.
A major collapse of the cliff face was captured on film during winter storms in January 2014.