GoPro crumbling Seven Sisters cliffs photo 'horrific'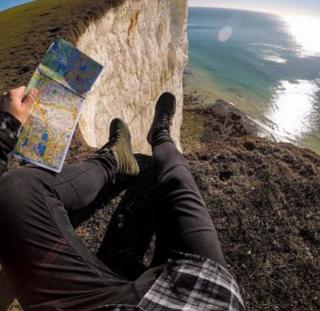 A Facebook post by the action camera company GoPro showing a man dangling his legs over a cliff top has been condemned as "horrific" by the RNLI.
The picture, which has since been removed from the social media site, was taken at Seven Sisters in East Sussex where signs warn of crumbling cliffs.
Mark Sawyer of Eastbourne RNLI said: "We see what's under the cliffs, at the bottom, how it's all underpinned."
GoPro has not commented despite requests from BBC South East.
Dan Mikolics, who took the photograph, said he had assessed the risks and deemed it safe.
Last summer a South Korean student fell to her death while posing for a photograph on the cliffs at Seven Sisters.
An inquest heard how Hyewon Kim, 23, asked a stranger to take her picture, but as she jumped in the air for the shot she lost her footing and fell 200ft (60m).
Three years earlier a large section of the coastline a short distance away at Birling Gap collapsed.
It followed the winter storms of 2013/14 which were said to have caused seven years of erosion in just three months.
On Monday, Newhaven Lifeboat said it had been "diverted to two persons sat on the cliff edge" at Seven Sisters the day before, warning the cliffs were "constantly crumbling and extremely dangerous".
Mr Sawyer said it was "quite horrific" to see the GoPro post, which was effectively encouraging others to do the same.
"That is not the sensible thing to do," he warned.
Phil Boorman of Seaford Town Council added that GoPro's global reach could encourage copycat "thrill-seekers".
"Obviously we welcome people to come to our local coastlines - it's beautiful round here - but we want people to remain safe," he said.