World Cup 2018: Hove scaffolders fly giant flag for England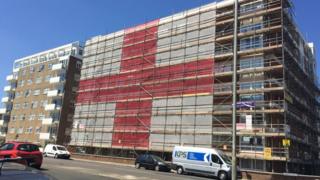 A team of scaffolders has plastered a block of flats with a giant St George's flag to shout out their support for England in the World Cup.
Red and white safety netting has been used by staff from Seasons Scaffolding to cover an eight-storey building in Hove, East Sussex.
It took a week for the 10 men to assemble the display on Albany Towers in St Catherine's Terrace.
Owner Steve Eason said they did it to "put smiles on people's faces".
"We did it because it's sunny, it's the World Cup, we wanted to put smiles on peoples' faces and show we are behind the boys," he said.
"We've had so much interest, it's been great."
The England squad is preparing to face Colombia on Tuesday, after losing 1-0 to Belgium in their last group stage match in Russia on Thursday.
A victory or draw with a better disciplinary record than Belgium would have seen England top their group and face Japan in the knockout stages.
But a second-placed finish is seen as a more favourable route through the tournament, avoiding a potential quarter-final against five-time winners Brazil.
You may also be interested in:
England last won a knockout game in a major tournament at the 2006 World Cup, when David Beckham scored the only goal in a 1-0 win over Ecuador.
The side's most recent knockout tie ended in humiliation when England were beaten 2-1 by Iceland at Euro 2016.
Talking about the giant flag, Mr Eason said he was even more pleased with it when he learned of Gareth Southgate's links to the area, having studied at school in Crawley.
He said he was hopeful for Tuesday but the flag would stay up regardless.
"If they win, there's several bits we will add. I might even add a gold World Cup to it," Mr Eason added.