Brighton coroner concern over hospital cleaning fluid death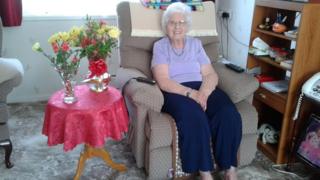 A stroke patient who died after drinking Flash cleaning fluid in hospital could have been given it deliberately, a coroner has said.
Joan Blaber, 85, died at the Royal Sussex County Hospital in Brighton last year.
Coroner Veronica Hamilton-Deeley told a pre-inquest review no-one knew how it happened after several investigations.
"We can't rule out it was done deliberately," she said. "And that leaves me in a very anxious state."
The hearing at Brighton Coroner's Court on Wednesday heard Ms Blaber was being treated at the hospital for a stroke.
The coroner said medication being taken by the pensioner could have left her in such a state of confusion she mistakenly drank the fluid.
Ms Hamilton-Deeley asked for Ms Blaber's notes and charts to be introduced as evidence at the full inquest.
Hazardous substances
In May, a report by the Care Quality Commission (CQC) criticised Brighton and Sussex University Hospitals NHS Trust for not always keeping cleaning chemicals safely.
Inspectors who visited the hospital a month after Ms Blaber's death found unattended cleaning trolleys with hazardous substances on them.
Chemicals were also stored in unlocked utility rooms and kitchens, and staff were unclear about their responsibilities, the report said.
In response, the trust said it had taken "significant steps" to improve the way it managed potentially hazardous substances.
A full inquest into Ms Blaber's death last September is due to be held in the autumn.