Lionel Richie: Endless love for couple who get engaged at concert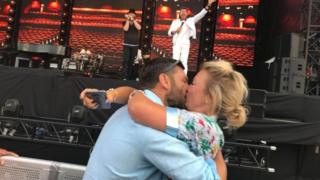 A couple who stole the show when they got engaged at a Lionel Richie concert hope it will be endless love.
John Whelan, 35, proposed to girlfriend Alex Smallman while the star was singing Stuck On You.
Richie stopped the show in Hove to congratulate the couple saying "get that ring on her finger".
Ms Smallman said she had been overwhelmed as hundreds of people reacted to their happy moment all night long.
"I had no idea at all. All our friends were in on it, but I had absolutely no clue," Ms Smallman said.
Mr Whelan had bought the ring three months earlier after booking the tickets for the show at the County Ground.
Ms Smallman, 36, said the song, Stuck On You, had always been her favourite.
When the band started playing it, she said her boyfriend remarked "let's go down to the front and have a boogie."
"Lionel was singing, but I think everyone was making such a big deal about us and it was gathering momentum," she said.
"He caught a glimpse. He was dragging his guys across the stage and he said 'come on, say yes, get that ring on her finger'."
You may also like
When the star finished the song, she said he told them it was not often someone stole his show.
"He said congratulations and then he said to John 'let me tell you she's an absolute keeper'."
The couple first said 'Hello' when they were introduced to each other by a mutual friend more than two years ago.
"My life took off," Ms Smallman said. "It was totally transformed."