Hastings Pier sold to Eastbourne Pier owner Sheikh Abid Gulzar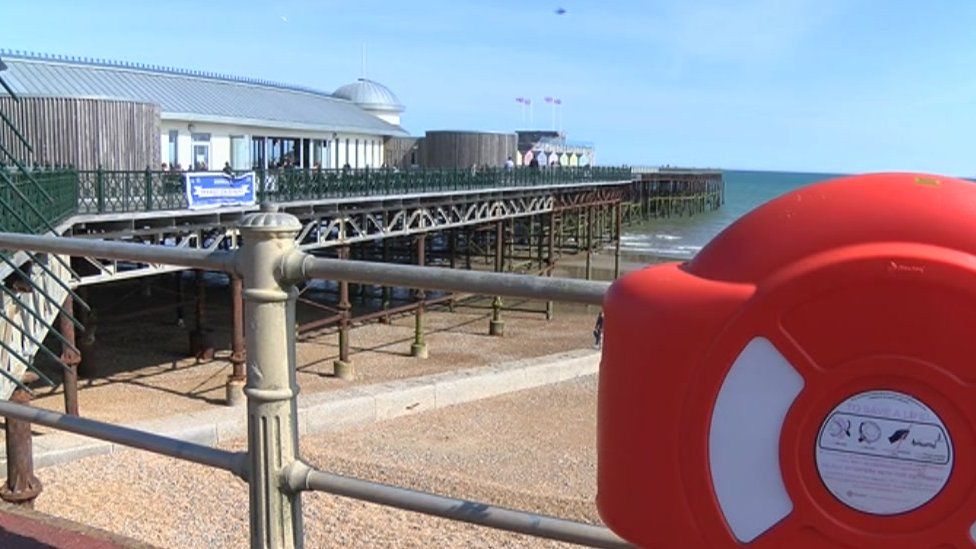 Hastings Pier has been sold to the owner of Eastbourne Pier despite a campaign to keep it owned locally.
Eastbourne hotelier Sheikh Abid Gulzar said he was "thrilled" to have signed a deal to buy Hastings Pier on Friday.
However, local campaigners who had been trying to raise money to buy the pier themselves said they were "sad" and "disappointed" with the decision.
The pier, which originally opened in 1872, was rebuilt following a devastating fire in 2010.
Mr Gulzar, who bought Eastbourne Pier in 2015, said: "I want to assure everyone that I will be putting my heart and soul into Hastings Pier, just as I have done at Eastbourne.
"I will work with the town's people and the council to make Hastings Pier a success which everyone in the town will feel proud of."
Mr Gulzar attracted criticism locally after banning dogs, fishing and picnics from Eastbourne Pier after he took it over.
The Friends of Hastings Pier raised more than £430,000 to buy the pier from administrators but had said they needed more time to reach the £500,000.
Very sad to report that the Hastings Pier Charity administrators have flown in the face of public opinion, common sense and business sense. This is the email sent to the HPC shareholders this evening.😰We shall regroup to consider next steps. #HastingsPierhttps://t.co/vuzG63EdmJ

— Friends Of Hastings Pier (@FOHP2018) June 15, 2018
James Chang, from the campaign group, said: "We are very sad and disappointed at the decision.
"The whole process has been really rushed by the administrators. It didn't seem like [the process] was really transparent."
Administrators Smith and Williamson said there had been a "significant number" of expressions of interest "in this beloved asset" and there had been "a number of concrete offers".
Adam Stephens, from the company, said: "Mr Gulzar demonstrated the best immediate financial capability as well as the operational capacity and experience, including from running Eastbourne Pier."
You may also be interested in:
Hastings Borough Council spokesman said: "We are very pleased that our pier, one of the town's most popular attractions, has had so much interest, and that it has been sold as a going concern.
"We did meet some of the other bidders, and their plans were exciting - we are disappointed that they weren't given the time they asked for to develop them, as they could have had a major transformational effect on the town."
The pier, which originally opened in 1872, was rebuilt thanks to Heritage Lottery Funding following a devastating fire in 2010.
The 280m (919ft) long structure reopened to the public in April 2016.
In 2017 it won the RIBA Stirling Prize for architecture.
Related Internet Links
The BBC is not responsible for the content of external sites.