Troubled East Sussex NHS trust out of special measures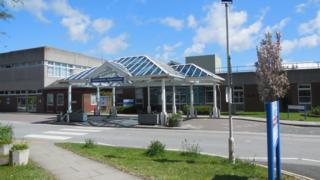 A Sussex health trust has come out of special measures after a positive report from the health watchdog.
East Sussex Healthcare NHS Trust runs Eastbourne District General Hospital and the Conquest Hospital, St Leonards.
It was put in special measures in 2015, after consecutive 'inadequate' ratings by the Care Quality Commission (CQC).
The trust remains in financial special measures and "must make rapid progress to strengthen its finances", NHS Improvement said.
'Delighted'
In 2015 the CQC had "concerns relating to patient safety, the organisational culture and governance".
In March this year a team of inspectors visited both hospitals to check five core services: maternity, surgery, medicine, outpatients and emergency care.
They also looked at management and leadership.
Significant improvements were found, but the trust's overall rating remains as "requires improvement".
The trust's chief executive, Dr Adrian Bull, said: "I am delighted that the hard work and commitment of people across the organisation has been recognised by the CQC, with the services they inspected rated as mainly good or outstanding.
"The trust only 'requires improvement' because of the limited inspection. Once our other services are inspected, we fully expect to be 'good' overall."
The trust aims to be rated "outstanding" by 2020.
Chief inspector for hospitals, Prof Edward Baker, said the CQC will return to check "a number of areas that still require attention" but has written to NHS Improvement to note there is no longer need for the trust to stay in special measures in terms of quality of care.
NHS Improvement accepted the recommendation, but kept the trust under financial special measures.
An NHS Improvement spokesman said the trust "will continue to get national support to improve its position" and it "must make rapid progress to strengthen its finances at the same time as maintaining and building on the improvements identified in the CQC's inspection".