Rocket launcher found in rubbish at Brighton recycling centre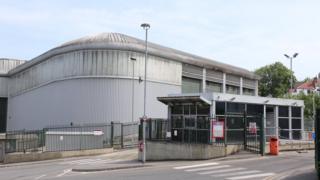 A rocket launcher weapon was found at a recycling centre after being dumped by a lorry with other rubbish.
Veolia Materials Recovery Facility in Hollingdean Lane, Brighton had to be evacuated and the road closed at just before 12:30 BST, Sussex Police said.
Bomb disposal experts were called to the scene and confirmed there was no ammunition in the weapon.
The launcher was in a compressed bale of rubbish and had been damaged, police said.
"It was seized for forensic analysis and the road was reopened shortly before 14:00," a spokesman said.
"At no point was there any danger to any persons or any property in the area."