Five arrests in East Sussex modern slavery probe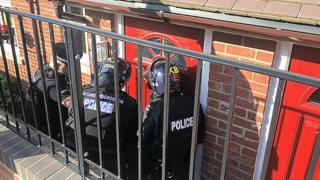 Five people have been arrested in East Sussex as part of an investigation into modern slavery offences.
Three women and two men were detained during police raids at two addresses in St Leonards-on-Sea and Hastings.
Sussex Police said at least eight people believed to be victims of labour exploitation were discovered at three other local addresses.
It is alleged a locally-based jobs agency has been employing people from Eastern Europe to work in care homes.
Det Sgt Sophie McGarel said the workers, mainly from Romania, had been charged for inadequate training, and housed in inadequate accommodation, paying excessive rent.
She said the agency is alleged to have failed to pay the legal minimum wage.
"We believe that thousands of pounds have been paid to the agency by care homes for staff and that these funds have been illegally withheld from the employees," she added.
None of the workers have been involved in the direct medical care of any residents at the homes, which are in East Sussex and Kent.
Police said the care homes, all of which are properly registered and lawfully operated, are not being investigated.