Mental health hospital apologises for failing Janet Muller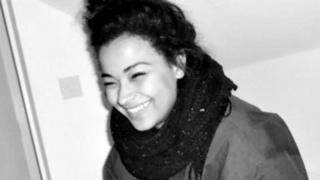 A Sussex health trust has apologised to the family of a woman who died while in their care for mental health issues.
The body of Janet Muller, a 21-year-old German national, was found in the boot of a burnt-out car near Ifield Golf Club near Horsham on 13 March 2015.
Christopher Jeffrey-Shaw, of Beckenham in South London, was jailed for 17 years for her manslaughter in 2016.
Sam Allen, chief executive Sussex Partnership NHS Foundation Trust, said she "apologises unreservedly".
Ms Muller was admitted to Mill View hospital in Hove after telling her family she wanted to die. Once there she was formally sectioned.
Unable to discharge herself, on the night of 12 March, she climbed over a wall to escape.
It was the second time that day she had absconded, having been found by a farmer and brought back to the hospital earlier.
'Awful events'
The trust has now released a statement confirming it did not keep her clinical records up to date, did not recognise the extent of her desire to leave the hospital and failed to keep her within eyesight of a member of staff.
Ms Allen added: "I want to apologise unreservedly to Janet's family. I have met with them and heard about the impact of their loss.
"Words of apology from me cannot bring Janet back. The awful events that happened after she absconded from our care will forever be borne by her family.
"I want to give my personal assurance that we have worked hard to address the shortcomings identified following Janet's tragic, untimely death."
Ms Muller's mother, Ramona Muller, said: "They have treated us all over these years, very badly.
"It was a very hard fight and we just want them to know you can't treat people like that... It's not ok.
"It's still a nightmare. We still wait every single day for Janet to come through the door. It still feels like this didn't happen."
The apology comes after an inquest last year, where the coroner found staff at the hospital "failed" Ms Muller due to a lack of communication with her, inadequate risk assessments and nursing records.
After Jeffrey-Shaw was sentenced, Det Supt Karen Mizzi said the force was never able to establish why or how Ms Muller came to be in the boot of the vehicle.
"We are not able to fully understand what happened between the time Ms Muller [was] last seen alive and the time she was found in the car," she said.
Jeffrey-Shaw, who had previous convictions for blackmail and harassment, admitted setting the car alight but denied murder, claiming he did not know the Brighton University student was in the car.