Beachy Head mannequin alert: No Sussex Police action taken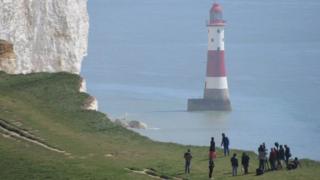 No action will be taken after a film company threw a mannequin off Beachy Head, sparking an emergency response.
Sussex Police said the company involved had apologised but as they were outside the UK it was not in the public interest to pursue a prosecution.
Filming on 4 May was for a show on Colors TV, but distributor Viacom18 said production had been outsourced to India-based Inspire Films Private Ltd.
The BBC has approached Inspire Films for comment.
Eastbourne Borough Council has confirmed the crew were filming without permission, but a spokeswoman for Sussex Police said: "No further action will be taken."
She said the investigating officer had received an apology by email, but did not confirm which of the companies had apologised.
In a statement, Viacom 18 said: "We had outsourced the production of the show to an independent third party production house (Inspire Films Private Limited) whose responsibility was to produce the show end-to-end and deliver the programs to us.
"We are concerned about such lapses on the part of the producers since contractually they are bound to obtain all necessary permissions for the production activities.
"We are inquiring into these reported incidents and have sought an explanation from the producers for such lapses."
After walkers reported seeing a body, a helicopter, lifeboat and the police searched the coast near Eastbourne in a full-scale air-and-sea search to make sure the mannequin was not a body.
A source told the BBC the response was believed to have cost £3,000.
But police said a report of a body would always be treated as a life-threatening incident requiring an emergency response because people did not adhere to warnings about the dangers of eroding cliffs.
And the Maritime and Coastguard Agency said rescue teams would always respond to a report of an object in the water, adding: "We wouldn't want someone not to call us because they were worried about the cost.
"If anyone sees anything, call 999 and ask for the coastguard."