Birling Gap cliff edge tweet lands head teacher in row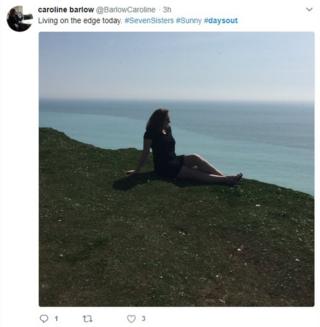 A head teacher has defended her actions after a cliff-top picture on Twitter led to claims of "risky behaviour".
Caroline Barlow, from Heathfield Community College, tweeted about "living on the edge" at Birling Gap but said she was a "good distance" away and appeared closer than she was.
She spoke out after Kent Live reported parents' concern and criticisms from the coastguard and the National Trust.
"Both myself and the others in my party were in complete safety," she said.
'Social media irony'
Speaking to staff at the college near Heathfield, East Sussex, Ms Barlow said: "I can guarantee to you that in no way shape or form do I engage with any form of 'risky behaviour' in my spare time as my 78-year-old mother, who was my company for the day, would testify.
"I obviously also fully support messages relating to safe use of students' spare time.
"I have obviously learnt a valuable lesson about the extent to which I am able to lead a private life or the occasional ironic use of social media."
Ms Barlow has since deactivated her Twitter account.
Each summer sees repeated alerts from the emergency services about cliff edge dangers in the area - the latest came last Friday when filming by a TV company sparked a full-scale air and sea search.
Birling Gap and Seven Sisters are owned by the National Trust and, after the row about the tweet, the charity issued fresh warnings about safety around the chalk cliffs.
A National Trust spokeswoman said: "It isn't safe to sit or stand close to the edge of the cliffs as they may be unstable or undercut in place.
"We advise visitors to stay back from the cliff edge when visiting the area."
She stressed there was "clear guidance" on signs at the cliffs and on the trust's website.
"I completely support and endorse messages from the National Trust and coastguards," Ms Barlow said.