Hastings Conservatives lose a seat in candidate suspension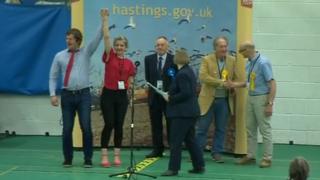 The Conservatives lost a seat in Hastings after one of their candidates was suspended over allegations he lied about being a Falklands War veteran.
The party was on track for a small gain on the district council, taking a seat in West St Leonards off Labour.
However, St Helen's candidate Matt Lynch was suspended by the Conservatives shortly before the vote and the seat was won by Labour.
Labour councillor Andy Batsford said voters had been "let down".
Mr Batsford was re-elected in the ward with 27% of the vote.
He said people voted by postal vote before the news of Mr Lynch's suspension was uncovered by the BBC.
Mr Lynch is currently being investigated by the Conservative Party.
The second Tory candidate, Martin Clarke, lost to Labour's Antonia Berelson (Lab) by just nine votes.
He said the allegation came as a surprise, and he was "bitterly disappointed" it may have also cost him precious votes.
As before, Labour still holds 24 seats and the Conservatives hold eight.
No other parties are represented on the council, although the Greens narrowly missed out on unseating Labour in Old Hastings - there were 29 votes in it.
Adur and Worthing
Both councils remain Conservative-controlled, but saw Labour increases.
In Adur Labour won three extra seats and leaving UKIP with one.
In Worthing, Labour gained four seats, while UKIP lost one and the Greens lost their only seat.
---
Crawley Analysis
by BBC Surrey political reporter Jack Fiehn
In Crawley, no seats changed hands.
Sounds dull, doesn't it? It wasn't. In places, the margin of victory was very fine. In the Southgate ward Labour won by 14 votes, while in Ifield they won by nine. If they had lost those two seats, the Conservatives would now be in charge.
Next year the whole council is up for election because of boundary changes, and the results will be fascinating to watch.
---