David Browning jailed over Jillian Howell 'bully' murder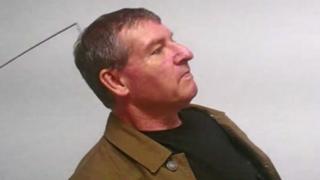 A man who stabbed his boss to death and wrote "bully" on her forehead has been jailed for life and ordered to serve at least 28 years.
David Browning, 52, of Seaford, was found guilty of murder at Hove Crown Court on Wednesday.
He stabbed Jillian Howell in the chest, neck and abdomen, leaving her with 15 stab and slash wounds in October.
Browning had formed an intense attachment to the 46-year-old Brighton university payroll boss, jurors heard.
The court was told he had gone to her house for dinner and reacted with anger when she rejected him.
'Defiled' body
Sentencing, Judge Christine Laing QC said the way in which Browning murdered her was "savage", adding: "This was a sustained attack and the terror and trauma for her in the final few minutes of her life is unimaginable."
The judge said Ms Howell "desperately tried to defend herself".
She said Browning "defiled" her body by writing the world "bully" on her forehead but added: "Nothing was further from the truth."
"The reality of Jillian Howell is that she was a compassionate woman, a quality that cost her her life," she said.
'Cocktail of emotions'
Ms Laing said Browning had developed a crush that turned into an obsession.
The judge told him: "I am quite satisfied that what led to you killing her was a very ordinary cocktail of human emotions, desire, jealously, frustration and anger."
This was illustrated in his vitriol towards Ms Howell's close friend Sean McDonald, who he tried and failed to frame for the killing, she added.
"Jillian did more than most people would have done to support you as a concerned colleague and friend but it is plain you wanted to be more important or special to her than that.
"I have watched you closely during this trial and you have shown no emotion and little remorse other than for your own situation."
Browning had claimed he and Ms Howell clashed when they first started working together in 2015, but then became friends.
The court heard Browning described as the "epitome of urban normality" until his father died in 2016, leaving him with depression.
Ms Howell told friends she wanted to help him.
In the months before the killing, Browning applied for a firearms licence, bought a shotgun and knife, hired a van, deleted messages and data on his phone and took a change of clothes to the crime scene.
The court heard the pair shared a curry and then he stabbed her.
After the killing, he posted a cartoon on Facebook with the slogan "stand up to bullies, then kill them", before he phoned the Samaritans.
When he handed himself in to police, the father-of-two claimed it was manslaughter by diminished responsibility.
Graham Trembath, defending, said Browning showed "no mercy" in the inexcusable killing but asked for "some light at the end of the tunnel".
Ms Laing accepted his diagnosed condition may have played some part, but said he had been rational at the time.
After the hearing, Mr McDonald described how he felt when he found out Ms Howell had died - and then days later discovered someone had tried to implicate him in the killing.
'Intensely private'
"I thought beforehand I could not be any more heartbroken but then I was and it completely broke me.
"It hurt me quite deeply that anyone thought I could harm Jill in any way at all."
Describing Ms Howell as "intensely private" and "very unassuming," he said: "It was disgraceful that anyone should try and link me to harming someone so beautiful."
Adding that Ms Howell had been loved by everybody, he said: "As regards the murderer, I'll never mention his name ever again. I'll never speak about him and he can be forgotten, but every day I'll remember Jill."
Tributes to Ms Howell were also paid by director of Brighton and Hove Samaritans Alison Pratt who said the "dedicated" volunteer supported people in distress and played a vital role in recruiting and training.
"We know that it will continue to be very difficult for Jill's family and friends, and our thoughts are with them," she said.
"We will remember her as a warm, compassionate and committed member of the team."