Mother 'actively encouraged abuse of daughter'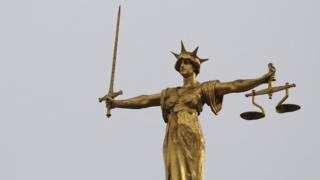 Social services dismissed two sisters as "troublesome teenagers" when they reported being sexually abused by their mother and stepfather, a court heard.
The defendants, who cannot be named, are accused of raping and abusing the older girl repeatedly between 1975 and 1981 - the stepfather is also accused of abusing the younger sister.
Jurors at Southwark Crown Court heard the mother "actively encouraged" the assaults on her eldest daughter.
The abuse was reported at the time.
Social services' written reports of the older sister's complaints still exist - she even asked for help from nuns running a children's home in West Sussex, before being ignored and returned to her abusers, the prosecution argued.
Jurors were told the elder sibling recalls her stepfather moving into their home when she was aged 10, and a few months later her mother climbed into bed with her, naked, and abused her before her stepfather raped her.
The alleged abuse continued into her teens.
'Ready' for rape
She claims she was once handcuffed to a bed for hours and raped at least 10 times by her stepfather, while her mother watched and also abused her.
The prosecution state her mother "actively encouraged" the abuse and would get her daughter "ready" to be raped.
Prosecutor Jose Olivares-Chandler said: "When she was growing up, the complainant did mention this sexual abuse to the professionals around her.
"Whilst notes were made about it, no-one seemed to have taken her seriously.
"It looks like the word of a troublesome teenager... was just dismissed."
Jurors heard the notes records the stepfather denying wrongdoing and claiming the eldest stepdaughter had "come on to him".
The younger sister was aged between eight and 10 when the abuse began.
The sisters, now in their 50s, lost touch in adulthood and reported the abuse separately to Merseyside Police in 2013 and Dorset Police in 2011.
The step-father and mother, now separated and in their 70s, were tracked down in Stowmarket, Suffolk, and Ireland respectively.
He denies six counts of rape and two of indecent assault. His former wife denies three counts of rape and one of indecent assault.
The trial continues.