Theft probe GP found dead with girlfriend in Cape Verde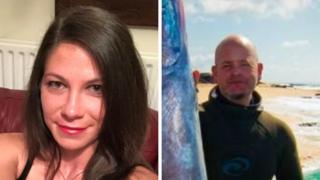 A doctor thought to have embezzled £400,000 of NHS cash before fleeing the UK has been found dead with his partner in an apparent murder-suicide.
Titus Bradley, 42, left Hastings a year ago shortly before a large quantity of money was found to be missing from the accounts of four GP practices he ran.
His body was found with that of his Hungarian girlfriend in the Divin' Art guest house in Cape Verde on 15 April.
Sussex Police confirmed it had been investigating the theft of NHS funds.
The force said it was contacted by NHS Hastings and Rother Clinical Commissioning Group (CCG) in May last year about "the possible inappropriate use of funds at the Cornwallis Plaza surgery".
A subsequent investigation established a substantial sum of money had been taken, police said. Officers were not able to confirm the amount.
The force said inquiries had been made to trace two former employees at the group in connection with its investigation.
It said it had received reports the couple had been found dead, but said the Foreign and Commonwealth Office was taking the lead on further inquiries.
Live: More news from across the South East
The bodies of Dr Bradley, who is originally from the Llanelli area in Wales, and Noemi Gergely, 28, were found two days after they had checked in to the guest house on the island of Santo Antao, off the west coast of Africa.
Santo Antao police chief Cipriano Bandeira said officers believed it was a murder-suicide and they were not looking for anyone else in connection with the deaths.
He said: "We believe he shot the woman and then himself using a 6.35mm pistol."
He said officers had found the weapon.
'Last wish'
Launching an online fundraising campaign to pay for the repatriation of Ms Gergely's body and a memorial service, her mother Lorand Gergely said: "We were devastated when we found out that our dear Noemi is no longer with us."
"We want to honour her last wish to be cremated and then her remains to be scattered in the sea, but first, we would like to offer the opportunity to her dear family and friends to say goodbye to her in her hometown," she added.
Helder Bentub, co-manager of the guest house, told BBC South East it was understood the couple had been arguing in the restaurant and their room.
"Three minutes later, clack clack with the gun and I called the police.
"The police go in the room and see the two people dead in the toilet," he said.
He said staff had not seen much of the pair, but they had "seemed friendly".
A Foreign and Commonwealth Office spokesperson said: "Our staff are assisting the family of a British man following his death in Cape Verde and are in contact with the local authorities."
Dr Bradley was registered by the General Medical Council in 2000 after graduating from the University of Leicester, but was suspended from practice on 28 March, according to records held.
He was also listed as a director of Manchester-based Bradley Jones Surgeries Ltd until his appointment was terminated on Thursday, Companies House records showed.
A CCG spokeswoman said: "Our thoughts are with the friends and family of the deceased. In view of the current police investigation we cannot comment further at this time."