Brighton boss killer 'apologised during stabbing'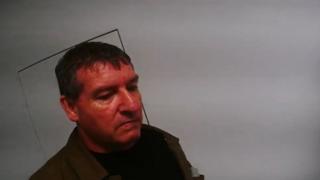 A university worker accused of murdering his boss apologised as he stabbed her to death, a court has heard.
David Browning, 51, admits killing Jillian Howell, who was found dead with "bully" scrawled on her forehead, but denies her murder.
Giving evidence at Hove Crown Court, Mr Browning described the moment he plunged a 10cm (5in) hunting knife into her back.
He said he felt "complete despair".
Mr Browning told jurors how he attacked Ms Howell at her home in Brighton on October 25 last year.
He said Ms Howell screamed "you bastard" and tried to grab the knife but he continued to stab her.
In reply, he said: "I'm sorry Jill, this is what mental health does to you."
He said the pair had initially clashed when she joined the University of Brighton payroll department as his boss in 2015 but had resolved their differences and became friends.
The court heard Ms Howell had urged him to get professional help after he confided in the Samaritans volunteer about his ongoing depression and his daily suicidal thoughts.
He told the court he first thought of killing Ms Howell about two weeks before the stabbing.
On the day of the stabbing, Mr Browning said he had posted suicide letters, and went round to Ms Howell's home with flowers and wine for a "pleasant evening".
At about 22:30 BST she asked him to go home.
He told the court: "I said I couldn't go home because I had posted my suicide notes on the way over. She was very shocked and said I needed to go to hospital now.
"She got up, picked up her trainers and jacket and sat back down in the chair and leaned forward to tie her shoelaces.
"I felt this whoosh feeling come over me. I pulled the knife out and I stabbed her in the back," he told the court.
He added: "I just felt shame, guilt, I was just in complete despair." and said he then sat down in a chair with his head in his hands "in complete shock" for about an hour-and-a-half.
Mr Browning denies murder but admits manslaughter by diminished responsibility.
The trial continues.