Social media 'distracted' Shoreham boat-sinking watchkeeper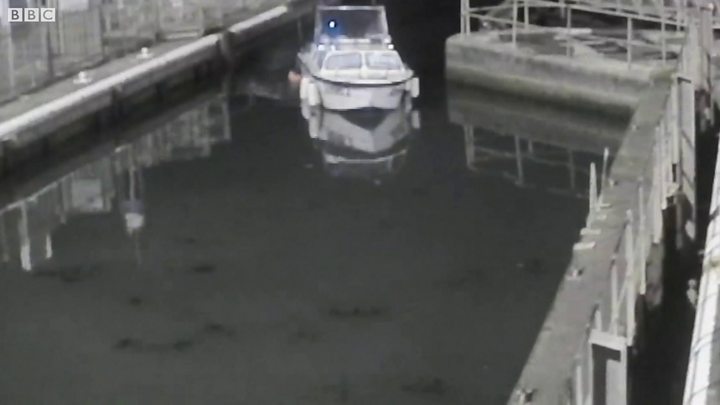 The watchkeeper on a vessel that hit another boat, sinking it and killing three anglers, was distracted by social media, accident investigators found.
Mircea Ilie, Irinel Popovici, and Traian Dumitrache died when their boat sank in less than two minutes at night off Shoreham harbour, West Sussex.
All would have survived had they been wearing lifejackets, a report found.
The boat's sole survivor, a 45-year-old man, was found clinging to a buoy five hours after the impact, on 6 August.
The Marine Accident Investigation Branch found the collision between the anglers' boat James 2 and commercial fishing vessel Vertrouwen occurred because "neither vessel was keeping a proper lookout".
The watchkeeper on the Vertrouwen was "distracted" by social media on his mobile phone and work on his laptop, and was unaware of the collision, which happened about 1.6 miles (2.6km) offshore.
The anglers - brothers-in-law Mr Ilie, 43, Mr Popovici, 41, and friend Mr Dumitrache, 51 - were Romanian nationals living in Brighton and London.
All were intoxicated on beer and whisky, and focused on looking for mackerel.
When the Vertrouwen emerged over James 2 as a "large black shadow with two bright floodlights", the anglers "suddenly realised the danger".
Mr Mircea started the engine but there was not enough time to get away.
When the vessel struck, its wash flooded James 2, sinking it in less than two minutes.
The report found the boat:
Was vulnerable to flooding because of a shallow section of the back where the motor sat
Had sub-standard navigation lights
Lacked basic safety equipment, including a fog horn or distress flares
The report adds: "If the sea anglers had been able to raise the alarm and been wearing lifejackets or buoyancy aids, all four of them would almost certainly have survived."
Recommendations to improve standards of watchkeeping have been made to Vertrouwen's owners, Macduff Shellfish (Scotland) Ltd, and editors of major sea angling publications have been urged to print the safety lessons raised in the report.
Macduff Shellfish issued a statement: "The sinking of the James 2 was a tragic accident and our thoughts are with the survivor, family and friends of those involved.
"The MAIB report does makes a number of recommendations for both the commercial industry and recreational boat users to improve overall safety.
"Specifically, the MAIB report recommends the commercial industry moves towards having a second person on watch," the statement continues.
"We have adopted this recommendation."