West Sussex fracking protester on trial over rig delay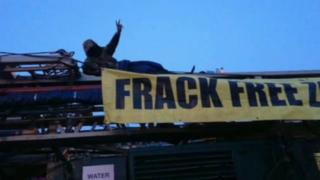 A fracking protester staged a 10-hour demonstration atop an oil drilling rig while it was parked at a service station, a court has heard.
Peter Whittick, 53, climbed the machine at Pease Pottage services on the M23 in a bid to delay test drilling, Brighton Magistrate's Court heard.
It was parked overnight while being transferred between drilling sites.
Mr Whittick, from Crawley, denies a charge of "hindering a person from driving on their onward journey".
The rig was being moved from the UK Oil and Gas (UKOG) test site near Billingshurst to the Angus Energy site at Lidsey near Bognor Regis.
Prosecutor David Dainty told the court Mr Whittick was spotted on top of the machinery at 02:30 BST on 7 September.
'Matter of conscience'
Engineer Anthony Rowe told the court he had returned to the rig with driver Norman Adcock when the pair discovered the defendant.
Appearing via videolink, Mr Rowe said he asked Mr Whittick if he was going to climb down, and the accused said "no".
Mr Rowe then called police.
Mr Whittick voluntarily climbed down 10 hours later as specialist police officers prepared to remove him.
The court heard Mr Whittick's actions had delayed operations at the Lidsey drilling site.
Before the trial, he described himself as a "conscientious protester" opposed to the industrialisation of the countryside.
Mr Whittick, who represented himself, said the movement of the rig was in breach of West Sussex County Council's operating permits.
He argued the rig had left Broadford Bridge at 04:00 on 6 September to avoid traffic - and had been due to arrive at Lidsey in the early hours of the next morning.
"I was trying to do the right thing" he told the court. "It was a matter of conscience".
However, the prosecution argued the site permits did allow the assembly, use and removal of drilling rigs between 18:00 and 07:30.
District Judge Christopher James reserved judgement until next week.