Hove businesswoman's waste error leads to £600 fine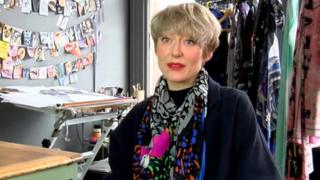 A businesswoman was fined £600 for putting a cardboard box in the wrong bin.
Alison Mapletoft, 39, who sells homemade cushions and scarves from her home in Hove, said the charge was "disproportionate" to the offence.
She accused enforcement firm 3GS, which is contracted to work for Brighton council, of being intimidating.
Brighton and Hove City Council said it worked closely with 3GS to ensure fines were issued "correctly and fairly".
The BBC has tried to contact 3GS for a comment but has not had a response.
Live: More news from across the South East
Ms Mapletoft said a large square box containing cushions delivered to a PO box used by her business was broken up by her husband and disposed of in a communal recycling bin.
She then received a fine of £300 for fly-tipping and a second £300 fine for not having a waste disposal contract in place after 3GS traced her via the address label on the packaging.
Ms Mapletoft said a £600 fine "just for one cardboard box" was completely disproportionate.
"I would have expected to have received a £50 fine and a warning.
"I didn't even know that putting a box with a business address in a domestic bin was an offence.
"My husband felt awful about it. He acted in good faith," she said.
Ms Mapletoft paid the fine but said she felt intimidated.
"I felt I didn't have a choice... there is no appeals process.
"The choices were pay the fine within seven days or go to court."
She added that she felt as though she was a "soft target" as she works alone and does not have a legal team.
Brighton and Hove City Council said: "Businesses, including those operating from home or mobile traders, are required by law to dispose of their own recycling and refuse as it is business waste."