Safety fears over 'stuck' Plumpton level crossing barrier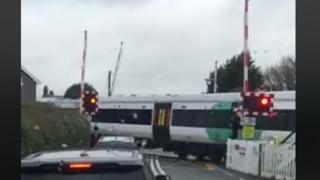 Safety fears have been expressed over a level crossing after its barriers stayed up as a train passed through.
Two years ago the crossing at Plumpton, in East Sussex, had to be closed for months because the original gates were deemed unsafe and had to be replaced.
Local resident Jo Filmer said the new "safer" barriers had failed before.
Network Rail said a fault at lunchtime on Thursday meant that it was unable to lower the barriers for 90 minutes but strict safety processes were followed.
The level crossing barriers were filmed still in the raised position by Ms Filmer.
She said motorists had stopped at the crossing because the red lights were flashing, but were confused when the barrier was not lowered.
"Then a train actually passed over the crossing with the barriers raised," she said.
"I find it very hard to believe that Network Rail have deemed it a safer, more reliable, and more cost-effective crossing, and this is not an uncommon occurrence."
In a statement, Network Rail said: "We recognise this may have looked alarming to drivers, but strict safety processes were followed throughout to keep road and rail users safe.
"During this time, trains approaching the crossing were brought to a halt before being instructed to proceed with caution over the crossing at a top speed of 20mph.
"We also sent staff to help manage road traffic while the fault was fixed.
"While we are aware of historic reliability issues with this crossing, which have involved the barriers staying down for prolonged periods of time, we are not aware of other incidents similar to this."