Paul Playle jailed for stalking wife for two years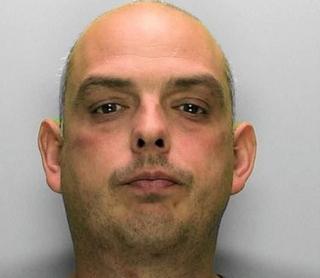 A "calculating and cruel" husband who stalked his own wife for two years has been jailed.
Paul Playle set out to humiliate and degrade his wife of 27 years by sending sinister messages using the name of her ex-boyfriend, Lewes Crown Court heard.
The 43-year-old sent messages to Alice Playle saying he was watching her and knew about her personal life.
Meanwhile, he played the role of loving husband, comforting her as she became a recluse and considered suicide.
Playle, of Turkey Road, Bexhill, denied charges of stalking and coercive and controlling behaviour but was convicted by a jury in less than 30 minutes.
He was jailed for three-and-a-half years.
'I no longer trust anyone'
Sentencing, Judge Christine Henson said: "You are the author of your own fate.
"You watched your wife effectively crumble before you because of the fear she was experiencing from this online abuse.
"You pretended to comfort her. That is the most calculating and cruel behaviour."
In messages sent between December 2015 and June 2017, Playle questioned his wife about her previous sexual encounters and called her a "slag", the court heard.
He also contacted her mother, father and work colleagues as well as hacking into her own accounts to send messages.
In one message, he said: "Nice handbag, do you want to meet in Starbucks for a coffee?" when she was out shopping and holding a new bag.
Police caught him after he sent an image of Gatwick Airport to his wife and officers spotted him on CCTV taking the picture.
He carried on sending threatening messages even after being arrested and only stopped when he was remanded in custody.
Mrs Playle said the pair met when they were 16 and that she had been faithful to him during their marriage.
"We had hard times but thought we had a stable family. My children are devastated."
Her victim impact statement added: "I am terrified to leave the house, go to work or the shop across the road. I panic when my phone goes off.
"To think it was the one person I believed I could always trust. I no longer trust anyone anymore."