Bishop George Bell not to be cleared over 'abuse'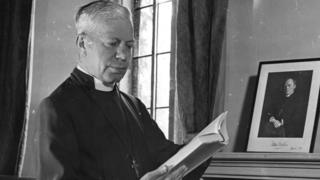 The Archbishop of Canterbury has rejected calls for him to clear the name of the late Bishop George Bell, who was accused of abusing a young girl.
A review found failings in the way the Church investigated allegations against the Bishop of Chichester in the 1950s.
Supporters of Bishop Bell have called on the Most Rev Justin Welby to pronounce the bishop as innocent.
But Mr Welby said he could not rescind a statement in which he said a cloud hung over Bishop Bell's name.
Bishop Bell's supporters have sent three open letters to the archbishop in recent days.
They were written by a group of historians, an international group of church leaders, and a selection of former choristers at Chichester cathedral.
But the archbishop said: "Our history over the last 70 years has revealed that the church covered up, ignored or denied the reality of abuse on major occasions.
"As a result, the church is rightly facing intense and concentrated scrutiny (focused in part on the Diocese of Chichester) through the Independent Inquiry into Child Sexual Abuse (IICSA).
"The Diocese of Chichester was given legal advice to make a settlement based on the civil standard of proof, the balance of probability.
"It was not alleged that Bishop Bell was found to have abused on the criminal standard of proof, beyond reasonable doubt.
"The two standards should not be confused."
The independent reviewer, Lord Carlisle QC, said the Church of England's investigation into allegations against the bishop by a woman known as "Carol" were deficient.
The church apologised and compensated Carol after she claimed she had been assaulted by Bell as a young girl.
Lord Carlile said the church had "rushed to judgment".
But Mr Welby provoked anger among the late bishop's supporters when he said: "No human being is entirely good or bad. Bishop Bell was in many ways a hero. He is also accused of great wickedness."