New homes sought for budgies rescued in Brighton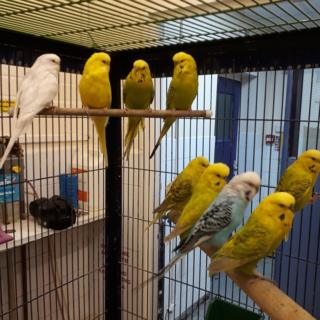 New homes are being sought for almost 360 budgies rescued by the RSPCA when their owner became ill.
The animal charity was expecting to find about 200 birds when officers were called to the house in Brighton after the man was taken to hospital.
Inspector Liz Wheeler said: "They were flying free around the semi-detached home so we had to use capture nets to safely catch them and remove them."
She said the house was a "sea of yellow, green blue and white".
"The noise from their tweeting and chirping was deafening," she said.
The birds were signed over to the RSPCA by their owner who said he could not cope with them all, and they were distributed to a number of the charity's branches across the country.
"We'd like the budgies to go to new aviary homes where they can live with other budgies and have lots of space to fly and explore," Ms Wheeler said.