Council approves Balcombe fossil fuel exploration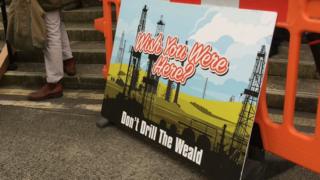 Councillors approved an oil company's plans to explore for fossil fuels in an area of Outstanding Natural Beauty, despite nearly 3,000 objections.
Cuadrilla Resources drilled a well in Balcombe in 2013 but the initial licence to test for oil flow expired.
The company said it was "delighted" West Sussex County Council approved the renewed application.
However campaigners fear this will lead to further drilling in Lower Stumble, at a detriment to the environment.
In its application Cuadrilla asserted it would conduct a flow test of the existing exploration well.
If viable reserves are found another planning application would be submitted to extract it, and if not the site would be sealed off and restored.
Brenda Pollack, the south east regional campaigner for Friends of the Earth, said that was a "devastating" prospect which would result in "industrialisation of some of our most precious areas of countryside".
As part of the public consultation 2,739 people objected, with concerns focussed on toxic air emissions, increased traffic, water pollution and noise.
Green MP for Brighton Pavilion Caroline Lucas, who was previously arrested during a protest against drilling for oil on the site, also said: "There is more and more evidence we need to be leaving at least two-thirds of fossil fuels in the ground if we are to have any hope of avoiding dangerous climate change."
However council officer Chris Bartlett recommended it for approval because of a "need for local oil and gas production" and the benefits of making use of a pre-existing well.
Councillors unanimously agreed, following a number of amendments to the conditions, including creating a local Community Liaison Group where residents can air concerns with the firm.
Once work starts it must be completed within two years.