Brighton building firm DMB Solutions leaves dozens out of pocket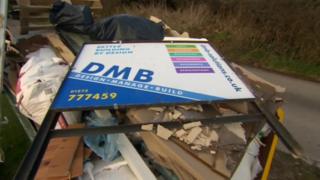 Dozens of homeowners say they have been left thousands of pounds out of pocket after a construction firm went bust, leaving building projects unfinished.
On its website DMB Solutions states it has ceased trading and has been put into liquidation by Begbies Traynor.
Brighton and Hove Trading Standards said it received a number of complaints about the city firm and was investigating alleged unfair trading.
DMB and Begbies Traynor have been contacted for a comment.
Homeowners said their houses had been left in a state of disrepair, with many posting about their experiences on the Facebook group DMB Solutions Victim Support.
David Bell, of Newhaven, told BBC South East: "It's been a nightmare. We feel totally ripped off by DMB; they've disappeared without a trace. We've had nobody to talk to; no notification from them at all.
"It was only the tradesmen we'd got to know who were letting us know what was happening."
He said he had been left with a leaking toilet, broken shower, holes in the wall and rubbish all over his property, and estimated it would cost more than £15,000 to complete work to his home.
Contractors have also gone unpaid, and went to the company offices on Tuesday only to find them boarded up.
One contractor, Si McLean, said: "I'm angry, gutted, fuming. It's left me completely in the dirt with nothing."
John Peerless-Mountford, of Brighton and Hove Trading Standards, said: "I must stress that I haven't identified any criminality at the moment but the allegations are extremely serious. The potential breaches can be dealt with down a criminal or a civil route."
Citizens Advice said it was providing legal support to homeowners and contractors in Eastbourne, Newhaven and Brighton.