Council's £720k overspend on library as others to close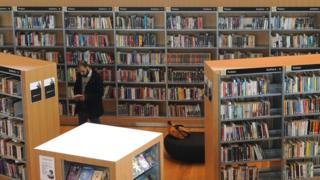 A council which plans to save £653,000 by closing more than a quarter of its libraries had overspent by £720,000 on refurbishing one library building.
East Sussex County Council said it had "no choice" but to close seven libraries and its mobile library service following government cuts.
It has now admitted overspending on renovating the Grade II listed building in Hastings.
The council will make a decision on the library closures in March.
The Conservative council's leader, Keith Glazier, said the front of the building in Hastings had been found to be unsafe and needed to be rebuilt.
"It was only discovered after work had been started," Mr Glazier said.
He said the work was being financed from a fund reserved for the maintenance of buildings.
"It can't be used for the day-to-day running of libraries or any others services in the county."
The overspend is due to be discussed by the council's cabinet later.
'Appropriate locations'
Seven out of the 24 libraries in East Sussex will close if the plans are approved following a public consultation.
They would be at Langney, Mayfield, Ore, Pevensey Bay, Polegate, Ringmer and Willingdon.
A smaller network of 17 library buildings would remain open in "appropriate locations according to need".
The council said the closures would affect just 8% of users, all of whom live a 20-minute drive away from an alternative library.
It also plans to cut its mobile library service and instead provide support to those who are unable to travel through the Home Library Service.