Sussex Health Care: Woman arrested in neglect probe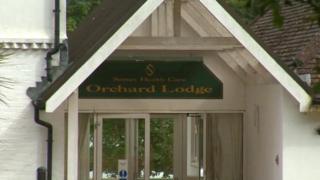 A woman has been arrested on suspicion of neglect and fraud by police investigating the deaths of 12 care home residents.
Sussex Police are looking into the treatment of 43 residents at nine homes run by Sussex Health Care.
The force said the woman, from West Sussex, was currently in custody.
In a statement, Sussex Health Care said it would "continue to co-operate fully with the police in their investigation".
A spokesman confirmed it was aware of the arrest but said it was "not able to comment further at this stage".
Police are investigating allegations of a lack of care and safeguarding for 43 residents, of whom 12 have since died, at nine of the private firm's homes around the county.
The BBC understands that the 12 who have died include at least two young adults.
Last week, West Sussex County Council moved four residents out of one of the homes, Orchard Lodge, near Horsham, following a "further risk assessment".
Sussex Health Care said the move was unwarranted.