HIV hairdresser Daryll Rowe 'said moaning won't cure virus'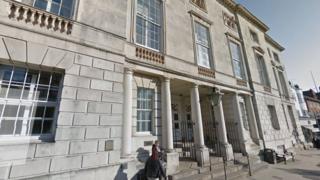 A hairdresser told a man who contracted HIV after they slept together that "moaning about it" would not cure him, jurors heard.
The alleged victim texted Daryll Rowe to say he had been diagnosed with the virus after the pair had sex in Brighton using a condom.
The defendant replied "moaning about it and thinking about it all the time won't cure you," Lewes Crown Court was told.
He denies infecting five men with HIV.
The 27-year-old also denies attempting to infect a further five by having unprotected sex or by tampering with condoms.
Caroline Carberry QC, prosecuting, said the man was "playing detective" when he texted Mr Rowe to try and get the truth.
"The way he was texting, it was like he was trying to get information out of me and I didn't feel comfortable," the defendant told the court.
Ms Carberry replied: "You did not feel comfortable because you knew he was on to you."
"No," said Mr Rowe.
'Really persistent'
Despite the man's positive diagnosis, Mr Rowe continued to ask to meet him for sex, the court heard.
Ms Carberry said: "You were really persistent. We don't need to look at the number of times that you tell him you want to have sex with him. But it went into the double figures."
The accused told the man over text that if he took antiretroviral drugs it would make him less infectious and they could have unprotected sex, jurors were told.
Mr Rowe said he refused the same medication and tried drinking his own urine as an alternative cure.
When Ms Carberry asked why he did not share this "cure" with the complainant he said: "I was embarrassed... I thought it would put him off me."
The court was shown an example of condoms Rowe is alleged to have sabotaged and stashed. The top of the condom was ripped and had been placed back inside the packet.
When questioned over another alleged victim, who Mr Rowe cared for when he developed the symptoms of HIV, he denied keeping the complainant "hanging" over the his HIV status.
Mr Rowe did not respond to questions asking if he was "clean" and said "I didn't think I was lying, I thought I was cured".
Ms Carberry claimed he never told police he was "cured" and that he "concocted the idea later to try and slither out of these allegations."
The trial continues.