University of Sussex student bottled in alleged racist attack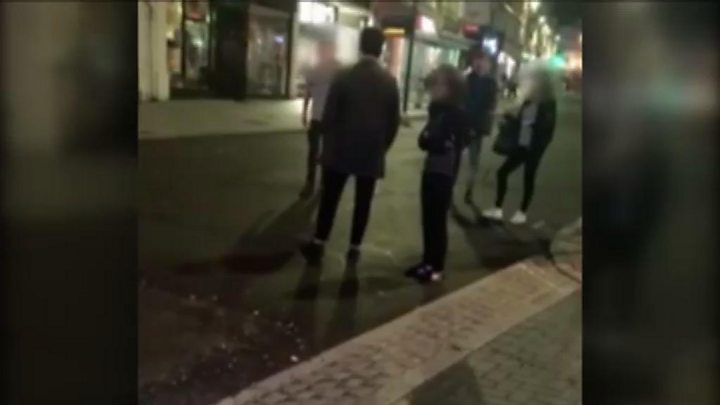 A student was left with broken teeth when a man was filmed smashing a bottle in his face.
The South Korean, who wants to be known as Mr Kim, lives in Brighton and was walking down North Street at 22:30 BST on Sunday when an altercation began.
Police were called to the allegedly racially motivated attack, and Mr Kim, 20, had to be taken to hospital for treatment.
Descriptions of three people being sought by police have been released.
The first is a white teenage boy, of slim build with brown hair with a side parting. He was wearing a blue top, dark coat, grey trousers and dark shoes.
A second white teenage boy is described as being of slim build with dark cropped hair. He was wearing a grey, short-sleeved top with collar and buttons - possibly a polo shirt - dark trousers and dark shoes, police said.
The third suspect is a white teenage girl, of slim build with long dark hair. She was wearing a dark jacket and trousers and light coloured shoes.
A police spokesman said: "Anyone who saw what happened, or can identify this man, is asked to report it."
'Think carefully'
Posting about the incident on Facebook, Mr Kim's friend Minsu Jo said one of Mr Kim's teeth was broken and 10 are loose.
He said the situation started when the attacker threw a bottle of wine behind Mr Kim, and when asked why, the attacker reportedly replied "because you are Asian".
Mr Kim said: "I was so angry and disappointed with this reality but I felt compassion by so many people who supported me and help me.
"I just want that this kind of case that happened to me not to happen again to other people, and if there are still people who have racial prejudice, wake up and think about this carefully."
Joe Cave saw the video and set up a Just Giving page to help the University of Sussex student. More than £1,300 has now been raised to help with his dental costs.
"I found it very shocking and wanted to try and do something to help," Mr Cave said.
"I'm not sure if what we raise will cover all his dental costs, I understand he's spent £300 on his initial consultation already, but it's a small token."
The university's vice chancellor Adam Tickell said: "Brighton and Hove is well known to be a tolerant and welcoming city that is proud of its diversity.
"We must never be complacent about the need to address prejudices that exist in all societies - we will certainly never tolerate such attitudes in our city or on our campus."