Calls to cancel Katie Hopkins' appearance at Lewes Speakers Festival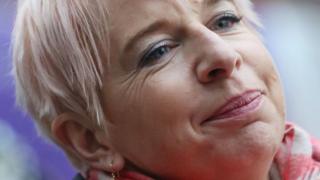 Calls have been made to cancel an appearance by controversial columnist Katie Hopkins at a literary festival.
Lewes Speakers Festival manager Marc Rattray said he would not cancel Ms Hopkins' talk in Sussex unless he was "forced" to.
"People have gone to the council, tried to have her banned under the rules of the venue, and I've had a lot of emails suggesting I withdraw her," he said.
Ms Hopkins said: "It's ok not to agree, but please don't attack the organiser."
A thread about Ms Hopkins attending the November festival was started on the Lewes Forum website, with some saying they would boycott the event completely.
'Impossible to offend'
Speaking to BBC Sussex earlier, Mr Rattray said: "I am under a lot of pressure to cancel [Ms Hopkins] and that would be really regrettable.
"We live in a democracy in this county and free speech is a virtue. If people disagree with what Katie Hopkins has to say they should come and say why, rather than try to ban her."
Ms Hopkins added: "I welcome everyone to come along. People can be blunt, rude, they can say anything they want, I'm impossible to offend.
"If they want to show me up as a hate speaker, someone with views that are not correct, show me up as being stupid or whatever they think, they are super welcome."