HIV hairdresser Daryll Rowe 'boasted of ripped condom'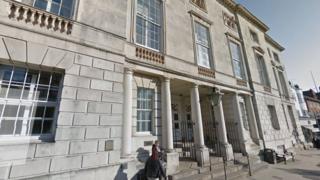 A hairdresser accused of deliberately infecting his lovers with HIV said "I got you" to one of them, a court heard.
Daryll Rowe, 26, denies infecting four men from the Brighton area with the virus and attempting to give it to a further six.
Lewes Crown Court heard he bombarded his second victim with texts and calls after the pair had sex.
During one call, jurors heard, Mr Rowe said: "I ripped the condom. Burn. I got you."
The man told the court he and the defendant exchanged explicit images via dating app Grindr before agreeing to meet.
In messages between the pair, the complainant said, Mr Rowe had told him he wanted to have sex without a condom.
'Panic, worry'
When the pair met, he said, the defendant attempted to initiate unprotected sex, but the man refused and insisted he put one on.
Addressing the complainant, Prosecutor Caroline Carberry QC said: "You told the police that he said, 'Come on, come on, I'm fine, you know you want it'."
He said that was correct, and that he had taken it to mean Mr Rowe was "clean. That he had no diseases".
After the encounter, the court heard, the defendant began sending aggressive messages to the other man, who blocked him on several platforms.
Mr Rowe began repeatedly calling him, jurors heard, and when the phone was answered said he had ripped the condom.
Giving evidence, the man told the court: "That's a really crazy thing to say to somebody and then I just got worried, so I wanted to listen to what he had to say and that was it.
It was just panic. Worry."
'Adamant and determined'
He described Mr Rowe's tone of voice as "kind of laughing" during the call.
The man tested positive for HIV a few months later.
A third man told jurors Mr Rowe had been "quite adamant and determined he had been tested".
He said he had agreed to have unprotected sex with the defendant because he "had checked that he was clean and trusted the fact that he was".
Mr Rowe was living and working in the Brighton area at the time of the first eight alleged offences.
He is accused of trying to infect two more men in the north east of England while he was under investigation by Sussex Police.
The court previously heard Mr Rowe, who is originally from Edinburgh, was diagnosed with HIV in April 2015.
The trial continues.