Toby Robyns freed from Turkish jail after 'smuggled' coins arrest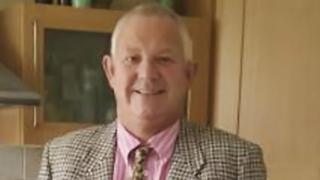 A British man who was held in a Turkish jail accused of smuggling ancient coins has been released to return to the UK.
Toby Robyns, 52, from Southwick in West Sussex, was arrested on 19 August at Bodrum airport after security staff reportedly found 12 coins in his bags.
He had been returning from a family holiday and told officials they were found by his children on the seabed.
On 29 September, a Turkish court ruled Mr Robyns should be released and would face no further proceedings.
After returning to the UK on Monday, he said: "I am delighted and relieved to be back at home with my family after the ordeal of the last six weeks.
"It was never my intention to break any laws in Turkey and it has been difficult to understand how to impress my innocence to the authorities when it resulted from a simple mistake."
The father-of-five, who is an ambulance driver, was first detained at Milas prison but then moved to Mugla prison.
He was accused of smuggling historical artefacts after the coins were sent to Milas Museum for authenticity checks.
If found guilty he could have faced a custodial sentence of up to 10 years.